The 95th Oscars ceremony is set to take place on Sunday, March 12th, 2023 in Los Angeles. This year's ceremony is highly anticipated as it brings together some of the biggest names in the entertainment industry, who will compete for the prestigious awards in various categories, including Best Picture, Best Director, Best Actor, and Best Actress.
The nominees for this year's awards have already been announced. Here you can check the all nominees. The Golden Globe-winning film "Everything Everywhere All At Once" stood out with 11 nominations at the Oscar Academy Awards. Fans and industry experts eagerly anticipate the results, as they will bring some surprises and highlight the best in filmmaking. 
​​Oscar awards are given in various categories. Don't you want to see also "best movie poster" category in the Academy Awards?  We feel the lack of a movie poster category. If there was such a category, our candidate would be obvious: The Banshees of Inisherin.
Look at the beauty and tranquility of that movie poster!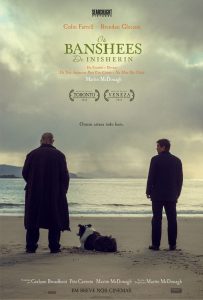 In addition to the awards, the Oscars ceremony is known for its star-studded red carpet and glamorous after-parties, where the biggest names in Hollywood come together to celebrate the best in film.
The countdown to the Oscars has officially begun, and movie fans worldwide are eagerly waiting to see who will walk away with the coveted awards on the night of the ceremony.
We can't wait to see the celebrities who will be attending, the dresses they will be wearing, and the award winners! Stay tuned for updates and coverage of the 95th Academy Awards.
​​