As 2022 approaches, you are probably evaluating and budgeting for next year's overall digital marketing strategy. There's a lot to consider: We faced an unforeseen pandemic that impacted hundreds of industries, changed social norms, and squeezed technological advancements into months rather than years. Repeated lockdowns and restrictions have dramatically increased the use of social networks as well.
Between 2020 and 2021, social networks have seen a real boom. According to We Are Social and Hootsuite's "Digital 2021 October Global Statshot Report", more than two thirds of the world population – almost 5.3 billion people – use a mobile phone, 4.8 billion surfs online and in October, the number of active users on social networks has exceeded 4.55 billion people. The report predicts that this number is set to increase further: by the first half of 2022 more than 60% of the global population will be active on social networks.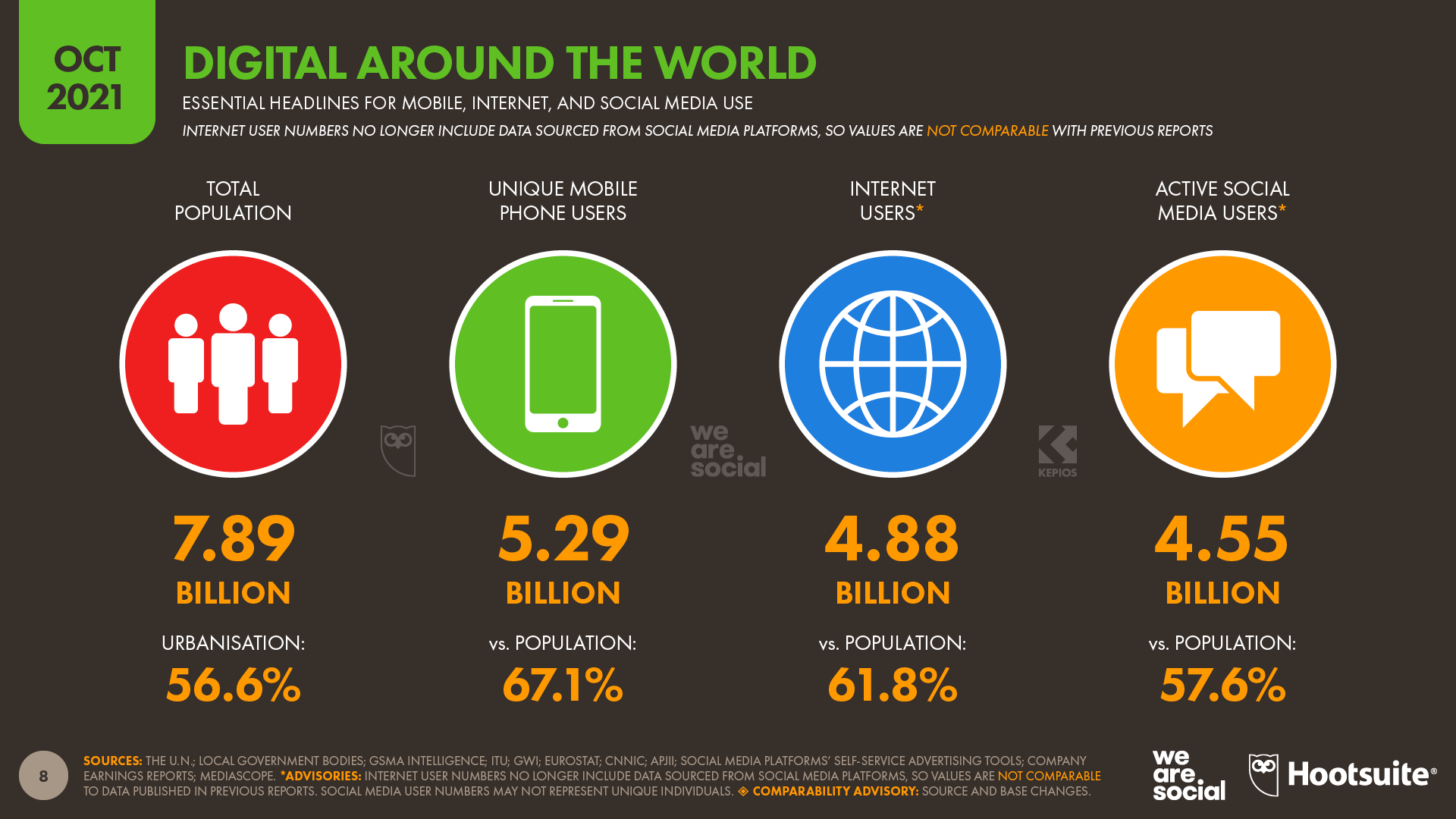 As digital is evolving faster than ever, being present and active on social networks is becoming a necessity. To effectively respond to changing customer demands, it is essential for brands to anticipate upcoming trends. Predicting what the future holds is never easy, but these five trends are expected to shake up social media in the coming months.
Top 5 Digital Marketing Trends for 2022
TikTok will take the lead in social media
The growth of TikTok seems to know no bounds. The short video platform broke download records in 2021, quickly becoming the ideal app to connect with current and future consumers. During the pandemic, the app became the first after Facebook to surpass 3 billion downloads.
Why is TikTok so popular?
Because people are at its center. It is the people themselves who create the content and become protagonists. It is a platform that encourages users to publish content and to show themselves – without thinking too much about complying with certain standards.
The popular social network has confirmed last September that it has reached and exceeded the milestone of one billion monthly active users. This number marks a %45 increase in users compared to July 2020. And according to Talkwalker's annual study "Social Media Trends 2022", TikTok will be the most followed social network in the world in 2022!
Offering such a large network, TikTok is expected to be the first platform that brands will turn to gain visibility and connect with a qualified and engaged audience in 2022. If your brand is not yet on TikTok, now is definitely the time to open a profile.
Social selling and social commerce goes mainstream
Many social networks are striving more and more to provide innovative sales solutions directly within their platforms and to greatly simplify the buyer's journey. Facebook and Instagram, for example, rolled out live shopping features this year designed to streamline and boost social commerce. For their part, Amazon and Pinterest offer similar features that allow brands to partner with talented influencers to create engaging livestreams. All the players are positioning themselves to offer a new experience to their audiences.
Talkwalker Report predicts that in 2022, social networks will increasingly become sales channels, with solutions that allow users to purchase directly from the apps. The next year it will be important to keep up with the emerging trends of e-commerce and take full advantage of the new possibilities of promoting and selling products on social networks.
Long-term relationships will gain importance
Historically, a short-term approach has been somewhat of a norm in influencer marketing. One-off campaigns lasting a few weeks, or even a few days, are not uncommon. However, more and more businesses are moving away from campaign-based influencer marketing in favor of an always-on strategy to ensure that their messages will reach across the public.
So, be prepared to see influencers who will be collaborating with the same brand for relatively long time.
The rise of NFT's
Even if you don't invest in cryptocurrencies yourself, it's almost impossible not to notice their rise, as well as that of NFTs, over the past few years. At first glance, this trend doesn't seem to have an impact on companies' marketing strategy, but things are not that simple. We will not go into the details of this concept which uses blockchain technology and has an interconnected relationship with cryptocurrencies but remember that NFTs are a new source potential revenue for influencers.
TikTok understood the assignment and launched its own NFT collection dubbed "Tik Tok Top Moments" in September which consists of videos produced by some of the platform's most popular creators – including Lil Nas X and Bella Poarch.
.@tiktok_us is coming to Ethereum… WAGMI 🚀@Immutable X is thrilled to power the launch of TikTok Top Moments, its first creator-led NFT collection on Layer 2 with @StarkWareLtd.

Own a moment that broke the internet.

👉 https://t.co/3HMESVJre3 pic.twitter.com/qYI3VO2JUk

— Immutable | $IMX | Hiring!👇 (@Immutable) September 30, 2021
TikTok is not the first social network to offer its own NFTs. In June, Twitter released a collection of 140 NFTs – some of which are currently offered on Rarible .
140 free NFTs for 140 of you, besties pic.twitter.com/0Pm0tNhIRg

— Twitter (@Twitter) June 30, 2021
For its part, Reddit launched in June its collection  "CryptoSnoos"
Crypto snoos unite! pic.twitter.com/7lblXMA9di

— Peter Yang (@petergyang) June 24, 2021
Blurring the lines between virtual and reality
The two major technological advances that will open a new era for social media marketing strategies are undoubtedly augmented reality and virtual reality. From product development to storytelling and creating engaging content, AR and VR enable businesses to create immersive experiences for their customers – and with the launch of the Facebook metaverse, these technologies have reached a new level.
In 2020, the AR/VR market size exceeded billions of euros. By 2024, this figure is expected to reach 63.5 billion euros. Why? Because these technologies are becoming more advanced, more accessible and above all less expensive. 2022 will therefore be the start of the big leap into the virtual world for many companies. Many companies such as Nike, Vans and Hyundai are already establishing marketing strategies within virtual universes such as the Roblox game. This growing market is set to become the place to be in 2022 for any business wishing to reach more potential consumers.
Welcome to NIKELAND on @roblox, where sport has no rules.

Sound on 🔊

Follow the link below to start exploring: https://t.co/5uqh15gZwL pic.twitter.com/MKwoGVZyVV

— Nike (@Nike) November 18, 2021
---
From NFTs to e-commerce to virtual worlds, technology continues to gain the upper hand in 2022. It will be an important year for technological advancements, marketing tools and forward-thinking strategies. Stay on top of these trends to stay ahead of the curve, to develop your brand and retain your customers.