Although it has been more than 15 years since Friends released its final episode, the series has never lost its popularity. People kept watching it on digital platforms. They made memes to share on social media, and there have been always new merchandise for us to enjoy. From time to time, a buzz about the reunion was speculated around. But most fans were losing hope, until this year. With the release of the Reunion episode, everyone started talking about Friends again and it seems like they will continue to do so.
It may be a matter of curiosity how a conventional media product has remained so popular for 25 years. It's thanks to the power of social media. Friends did not remain just a TV show. It adapted itself very well to social media era. And the series always knew how to market itself.
Global Collaborations
Friends is undoubtedly one of the most franchised TV series. I'm talking about an amount that is almost too much for a conventional TV sitcom. Franchising is very normal for series that are famous on digital platforms. But Friends, which has made licensed cooperation with almost every globally famous brand, always managed to be on the spotlight.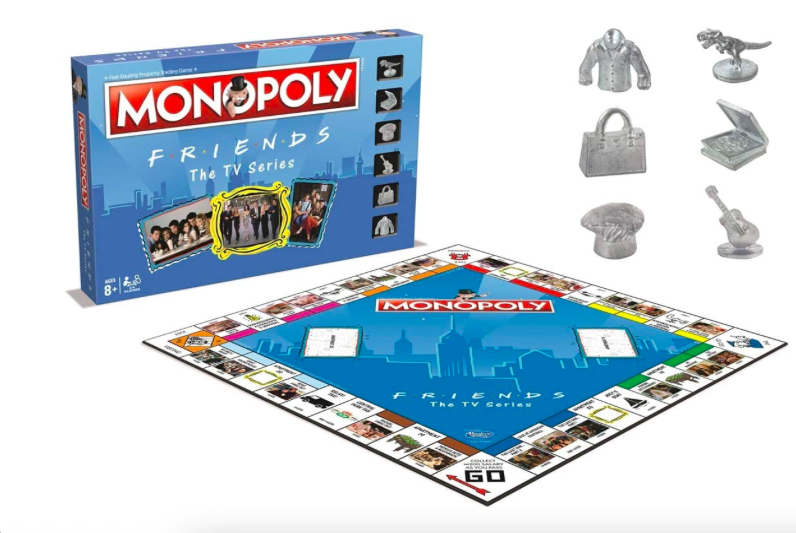 With this Monopoly x Friends collaboration, the most famous board game in the world came together with the most famous sitcom in the world. With the use of symbols important for characters as tokens, consisting of inside jokes, quotes and places that are completely related to Friends, the game is a dream product for every fan.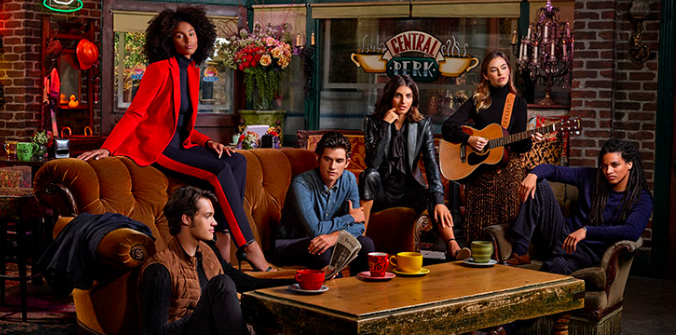 The Ralph Lauren x Friends collection was published exclusively for the 25th anniversary of Friends' release. It was a collaboration that attracted everyone's attention because it looks extremely good with its mixing modern and 90s styles together. The photo shoot was also done at good old Friends studios.
Friends was never on a break from social media
The official Friends Instagram account is a very active one. The account shares interactive games or online events that would impress every social media user. Here are some of them.
View this post on Instagram
For Christmas, the page posted a marathon schedule with Christmas-themed episodes from Friends. It was definitely one of the best things an official account can do for fans who are full of festive spirit and endless love for Friends. This was a strategically good move by the account runners. Even though if it wasn't a paid project, it created such a hype around the series once more by bringing the fans together. Considering the situations the world has been through for the last year, feeling like a part of a community became much more important. In this period where we miss our social life and crowded events so it feels amazing to feel connected to many people.
View this post on Instagram

Interactive events are very good marketing strategies to meet the audience. User-generated contents always attract attention, and make audience feel like a part of the content. After launching an interactive game called HBO Max Games, HBO published a poll where users voted for the best Friends episode. Of course, Friends fans gladly participated in this interactive event. The beauty of this social media promotion is that it wasn't just for Friends fans.
The results of the pool didn't surprise. "The One Where Everybody Finds Out" probably has a place in everyone's minds, and each scene is a famous one. I am sure you have seen this episode more than once. Because it is such a comfort episode with laughs guaranteed along with jumping with Phoebe.
Cast Members as Promoters
View this post on Instagram

Cast members can be promoters as well. Jennifer Anniston didn't have an Instagram account until late 2019. As soon as she opened her Instagram account she shared a photo with full cast members with the caption "And now we're Instagram FRIENDS too. HI INSTAGRAM 👋🏻"
Anniston's post reached a very high number of likes within hours. The account entered the Guinness World Record as the fastest 1 million Instagram account, and achieved a very good social media visibility. The photo made its way to many other social media channels and news platforms as well.
View this post on Instagram
Speaking of the cast members promoting the show, it is worth noting Courtney Cox. Courtney Cox joined one of the social media trends with a Friends adaptation. She said, "Tell me you're Monica, without telling me your Monica." and showed her kitchen, which she arranged like Monica would. She finished the reel with Monica Geller's famous catchphrase "I know". Courtney Cox is known as the cast member who is the most similar to her character. And she proved this once again with her video.
Friends Reunion Hype
While the 2-minute Friends Reunion trailer aired, it was very short for everyone to be satisfied. But it still indicated how emotional and nostalgic the audience would feel after watching the episode. If any of you watched the episode, you must have seen that the 104-minute emotional feast delivered more than it promised. It is certain that the documentary-like episode, consisting mostly of old episodes, table reads, and interviews made everyone say "OH MY GOD!"
View this post on Instagram

Two weeks before the release, the guests starring list the official account shared completely increased the excitement fans. The list of actors and singers whose audiences are completely different from each other generated curiosity about how they will integrate such different guests to the Friends Reunion Episode. While some people got excited to see their fav celebs on the show, the lack of Cole Sprouse, who plays Ross' son from his first marriage, caused disappointment.
You don't want to miss this! The #FriendsReunion Digital Red Carpet hosted by Maddie Ziegler is happening tonight at 7:30 PT/10:30 ET. Watch the event live on the official HBO Max Facebook, Twitter and YouTube channel and the official @friendstv Facebook. #FriendsReunionParty

— HBO Max (@hbomax) May 26, 2021
Another event was also organized to hold the Friends community together. The Friends Reunion digital carpet was broadcasted, and the official accounts encouraged everyone to participate. The event was on the Twitter agenda for two days with the hashtag #friendsreunionparty.
Even though the series received criticism for some of its problematic jokes and discourses from time to time, it provides a comfort zone and laughter for many people. As a TV show that everyone continues to watch with as much excitement as the first time, we can be sure that we will hear its name for many more years thanks to its devoted fans and the power of social media.
---
Have you seen the Friends Reunion? How do you like it? You can let us know by commenting below. Don't forget to follow us on our socials for more!