Kids have been obsessed with YouTube ever since they were old enough to turn on a computer, click a mouse, and surf the internet. It's no secret that kids love YouTube, but don't be fooled into thinking that they only watch videos on YouTube. Meet the new YouTube content creators, kidfluencers!
Who are "Kidfluencers?"
Kidfluencers are children under the age of 13, who generate large numbers of viewers and followers on various social media channels, often earning money for promotional content. There are some who became famous before they were born, and those who decided to open their YouTube channel at the age of 3. Being chased by big brands, these kids' social media profiles have thousands or even millions of followers. They actively use YouTube and Instagram channels, and, they are seen as role models. Other children who follow them want to be just like them, replicating the success they see with their own content.
Current research reveals that children start surfing the Internet at the age of two and spend time watching online media instead of television – from cartoons to educational programs, to unboxing videos to daily life games and animation videos, mostly on YouTube. Although preferred content changes with the age of the child, YouTube becomes a constant habit as they grow up.

Astronauts Are Cool, But YouTubers Are Cooler
When kids were asked what they want to be when they grow up, the answers used to be more or less predictable. They often dreamed of being a doctor, teacher, policeman, or perhaps an astronaut. But these days kids are much more likely to aspire to be the next YouTube star rather than the next person in space. A 2019 study by Harris Poll on behalf of Lego shows that kids in the UK and US are three times more likely to want to become YouTubers or vloggers, rather than astronauts.
When it comes to being an astronaut, the kids understand that they have a long road until they hit space. The unique part about being a YouTuber is that they don't have to really grow up for that. It is possible to kickstart a YouTube career with an internet connection and smartphone only. Being a YouTube star simply seems more accessible as the platform is open to everyone.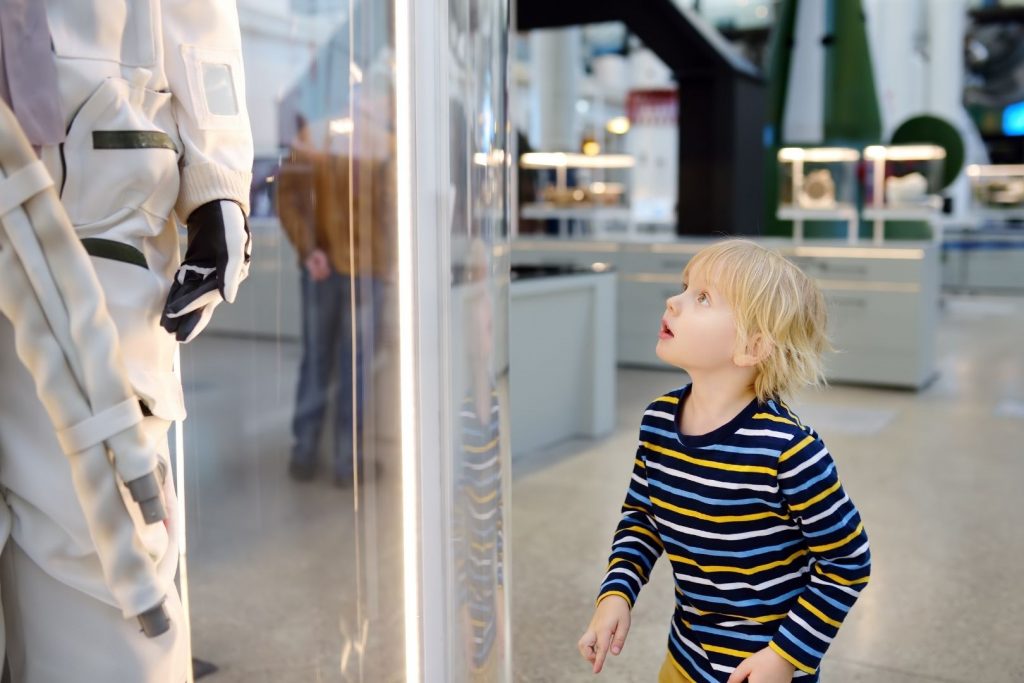 Know the Rules
YouTube explicitly states that the platform is not intended for children younger than 13, but many younger kids have channels. According to YouTube's Age restrictions, it's forbidden for kids under 13 to open their own accounts, and children between the ages of 13 and 17 are only allowed to open their own accounts with parental consent. Of course, these rules do not say anything about parents opening accounts for their children. As a result, their parents manage the accounts of these kidfluencers.
We should also note that the platform provides a YouTube kids option for children that has enhanced parental controls. Parents are able to select from three different age groups to choose the right content for their children. However, YouTube Kids does not offer any content filters. To limit what children see, parents can choose to only allow content that they approve. Otherwise, YouTube aims to show videos based on the age range specified by the parents. While children aged 4 and under see more early learning content, children between the ages of 8 and 12 are likely to see gaming videos, for example.
Popular YouTube Kidfluencers
Ryan Kaji
Ryan, the owner of the YouTube channel Ryan's World, was 3 years old when he started creating content on YouTube. Like many kidfluencers, Ryan rose to fame with toy unboxing videos and fun family vlogs. He is arguably the biggest kidfluencer on the scene right now, boasting 29.4 million subscribers on YouTube at the age of nine.
He has been named as the top-earning YouTube star by Forbes in both 2019 and 2020. According to Forbes reports, he earned $21 million of his channel's total revenue from pre-roll ads and the remaining $1 million from sponsored content.
In addition to being a YouTuber, Ryan is reining in massive endorsement deals. Companies like Chuck E. Cheese, Nickelodeon, Walmart, and Hardee compete to sponsor Ryan's videos. The bulk of his business comes from his own toy line and more than 5,000 licensed Ryan's World products—everything from bedroom decor and action figures to towels and toothbrushes.
Everleigh Rose Soutas
Savannah LaBrant, a fashion blogger and photographer runs her seven-year-old daughter Everleigh Rose Soutas's Instagram page. Boasting 3.65 million subscribers on YouTube, Everleigh Rose earns between $10-17k for a sponsored Instagram post. In her posts she often poses with her two-year-old sister Posie Rayne LaBrant, who already has 1.6 followers on Instagram.
---
Do the kids around you want to be YouTubers too? Do you think it's dangerous for children to see being an influencer as a career option, or is it inevitable? Start a discussion by leaving a comment below and don't forget to follow INFLOW Network on social media for more articles, news and updates.