Over the past couple of months, Kim and Kanye have given so many statements as to blame one another that at some point, we've lost track. The latest of these incidents happened a few days ago. Kanye West has claimed his ex Kim Kardashian thinks he put "a hit out on her" in a lengthy Instagram post saying: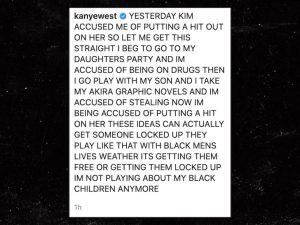 People expected an answer from Kim, however, there were no immediate responses. 
Another hot incident between Kim and Kanye broke out last week because of North's appearance on TikTok. West asked his Instagram followers what he should do about his daughter North being on TikTok against his "will," and Kardashian criticized the rapper for his "obsession" with "attacking" her in public.
"Kanye's constant need for attacking me in interviews and on social media is actually more hurtful than any TikTok North might create," Kardashian said in a harsh statement posted on Friday to social media.
"As the parent who is the main provider and caregiver for our children, I am doing my best to protect our daughter while also allowing her to express her creativity in the medium that she wishes with adult supervision — because it brings her happiness." 
Kardashian went on to say that the divorce has been tough enough for their four children: North, Saint, Chicago, and Psalm. She alleged that Kanye's preoccupation with attempting to control and manipulate our situation in such a public and bad way is simply causing more misery for everyone. 
Kardashian filed documents to be declared legally single in December. As the official divorce processes progressed, Kardashian has stayed largely silent about the breakup. West on the other hand has openly pushed for a reunion and even mentioned Kardashian and her new boyfriend, Pete Davidson, in his song lyrics.
---
Who do you think is the right side in this feud? Share your comments down below!