In honor of Mother's Day, Instamoms are under our spotlight today.
Modern mothers are more connected than ever. According to the report commissioned by Bussiness Instagram, 68% of millennial mothers use Instagram daily, and the average mother checks Instagram 6 times a day. Moreover, 78% of moms take action after seeing inspirational content on Instagram. Simply put, the motherhood niche is gaining in popularity. That being the case, it did not take long for a new form of influencers called "Instamoms" to appear on Instagram.
Who are Instamoms?
Instagram moms are exactly what you think they are – moms who regularly post on Instagram! They share their pregnancy adventures, troubles during pregnancy, birth stories, difficulties and joys of raising their babies with other mothers from all over the world.
The realities of motherhood
Instagram can be a double-edged sword, especially for moms. On the one hand, it can motivate and inspire by providing positive and uplifting messages. However, on the other hand, it can be a comparison trap that stirs up negative feelings such as anxiety, guilt, and inadequacy.
There are so many posts of perfect families and filtered pictures that it can be hard to relate to these sugarcoated motherhood images, when you are scrolling through Instagram as you're nursing your newborn, haven't showered in three days, and only one Adele song away from the meltdown.
The problem is that social media does not always offer realistic representations of motherhood, so it can be detrimental for mothers to compare themselves to other mothers based on their content on social media. According to a nationwide Rafinery29 Canada survey, social media makes mothers feel insecure about their parenthood. More specifically, although 53% of the respondents believed that social media did not show the maternal experience correctly, 63% were found to have insecurities caused by these apps.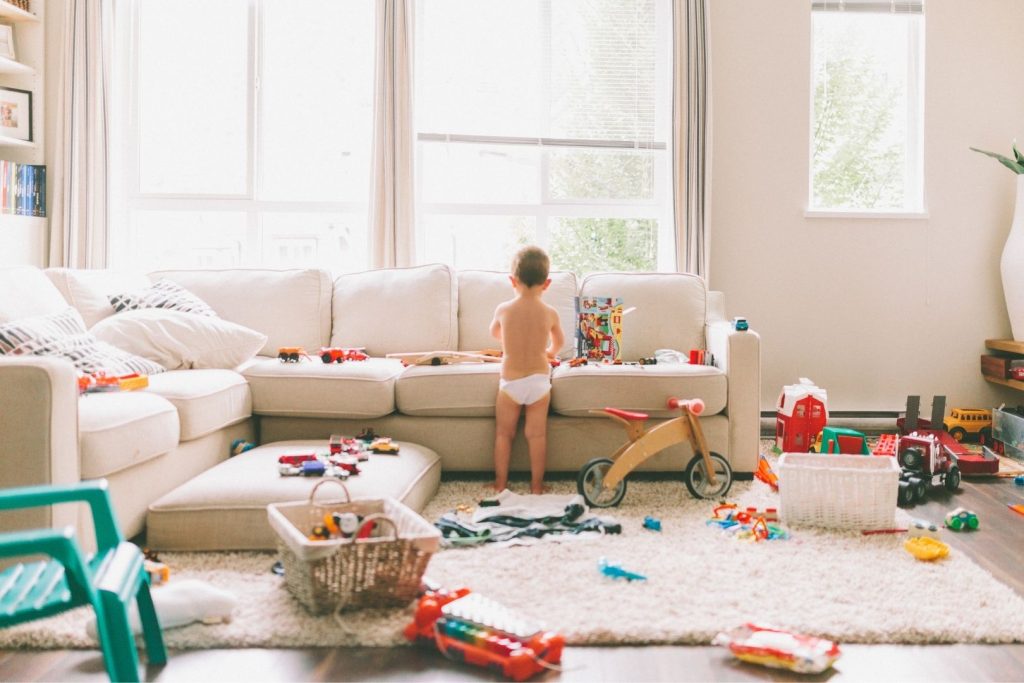 Is there a solution?
Motherhood is undoubtedly a very special experience and collecting splendid memories in this period is the common dream of many mothers. I mean, what new mom wouldn't want to share a happy photo with her baby where she really feels beautiful?
By their very nature, photos are meant to capture a single moment in time. That being the case, maybe Instagram moms' posts don't have to be necessarily relatable. Many of the accounts where motherhood seems easy and glamorous work with professional photographers, photo editors, even hair and make-up artists and wardrobe stylists. Not to mention that some of them actually get paid to produce these contents. Being an Instamom is indeed a job.
Our suggestion is to treat your Instagram feed as you would a fashion magazine. As you scroll down, try to remember that those carefully curated photos leave the rest of the reality out of the frame.
Whether you're new to motherhood, looking for like-minded moms, or just scrolling for new content, we've rounded up some popular Instamom accounts to get you started.
Amber Fillerup Clark
With over 1 million followers, Amber Fillerup Clark is one of the most popular moms on Instagram. Amber's feed primarily features her beautiful children, her endearing marriage and everyday life as a mother of three. Saying that hair extensions have been a part of the daily routine since high school, Amber is also known for her original hair extension brand called Barefoot Blonde.
Bu gönderiyi Instagram'da gör
Madison Fisher
Madison Fisher is the mother of Taytum and Oakley twins, her younger daughter Halston and newborn baby Oliver. She is currently boasting an impressive 1.8 million followers on Instagram and also manages her children's accounts. Not surprisingly, adorable twins Taytum and Oakley's Instagram page surpasses their mother's with 3 million followers. The Fisher family also has a YouTube channel with more than 4 million followers called The FishFam. They have been among the forerunners of family vlogging. The family can currently earn up to $ 200,000 per month with brand deals and advertising revenue.
Bu gönderiyi Instagram'da gör
Aspyn Ovard Ferris
Aspyn, who currently boasts over 2 million followers on Instagram, is a successful actress who starred in Accidentally Exercising, Royal Crush, and AwesomenessTV. She is also a beauty and fashion guru who produces a variety of content from lifestyle videos to vlogs on her YouTube channel. So far, her channel has garnered 3.39 million followers. Starting her social media career as a teenage girl and continuing as a young Instagram mom, Aspyn earns $12,500 per paid post.
Bu gönderiyi Instagram'da gör
Bonus: Implications for brands
Moms are often the most picky when it comes to children's products. And with what social media has to offer, they are now more pickier than ever. According to a study by BabyCenter, millennial mothers can spend more than eight hours a day searching for parenting advice online. And only less than a third of them seek advice on parenting apps. Instead they turn to social media, scrolling through other moms' product reviews and recommendations.
Mothers simply rely on other mothers who directly experience and share products rather than brand advertisements. From the practical meals that they cook in the evenings, to which brands they prefer for baby food, diapers and clothing, each post of Instamoms acts as a guide and creates an option for mothers when making a purchasing decision.
---
Happy Mother's Day, everyone! What is your stance on mother influencers? Don't forget to let us know in the comments section below and stay tuned on our social media accounts for new content!