The time everybody is waiting for has come! Thanks to the 2021 Met Gala being held in September due to the pandemic, unforgettable designs are etched on our minds, and the whole world is focused on this year's theme. So, Anna Wintour has revealed the Met Gala theme as "In America: An Anthology of Fashion" (or it could be called "Gilded Glamour"), and preparations have begun. 
Well, what is Gilded Glamour? The Gilded Age represents the golden age of the United States in terms of economic and industrial developments between 1870 and 1990. It is a period of great migration with the rapid development of industrialization. While the density of the rich increased, there was a situation of inequality in the sense that some segments were very inadequate financially. Considering the theme, it can be said that strong and magnificent appearances are expected from the guests.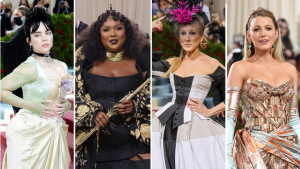 Of course, in this event, where everyone wanted to draw attention and had a long preparation process, some outfits caused controversy as well as the outfits that fascinated. Met Gala, which included influencers on the guest list like last year, invited all Kardashian-Jenner Sisters to the event for the first time this year. Blake Lively is one of the most admired names with her dress that turned from copper to blue and was inspired by the Statue of Liberty. Unfortunately, not everyone was as lucky as Blake. Some of society claim that it's a big shame that Kim Kardashian wore the same dress Marylin Monroe wore when she sang "Happy Birthday Mr. President" to JFK shortly before she passed away. While it is known that the value of the dress is 4.8 million, it was also among the hot topics that Kim Kardashian lost 16 pounds in a very short time to fit into this dress, by following a strict diet. Kim wore this dress just for a few minutes to take a picture, and then, changed it with the replica. Still, people found it disrespectful. While the most important reason for this was that Marylin wore this dress to an event that is known to almost the whole world, shortly before she died, people thought that this dress, which was specially made for her, should remain special to Marilyn and that it was disrespectful for someone else to wear this dress.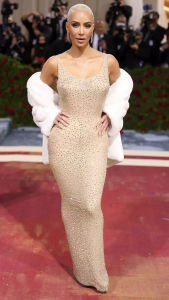 However, There was another name that made more noise than Kim Kardashian and got much more reaction. Emma Chamberlain was dressed by Louis Vuitton, and her jewelry was by Cartier. Emma became the newest ambassador for Cartier. This collaboration made a huge impact. Because the necklace Emma wore at the Met Gala was allegedly stolen. Turn out, that the necklace was stolen from India during the Colonial Period. 32 years after its disappearance, parts of the necklace showed up in an antique shop. It was claimed that Cartier bought the parts of the necklace from a second-hand jeweler and completed the missing parts with replicas in 1998. This necklace is believed to belong to the Maharaja of Patiala. People claim that this situation symbolizes the stolen history.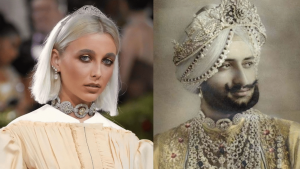 Some people believe that Emma doesn't know this historic part, and the others part doesn't sure about that. As we see in the video shared by Cartier's Instagram account, Emma knows what year the necklace is from, however, there is no certain information about whether she knows the history behind it or not yet.
---
 What do you think about that? Is it really a disaster or just social media exaggeration? Don't forget to give your opinion in the comments and follow us for new content!