In today's social media landscape drama is the king. But drama can become stale, flavorless, uninteresting. What never goes stale is action! At least that's what these influencers thought. Nothing beats out some good old boxing, right?
Acted by…
These days Influencers from every corner of the internet are always involved in some kind of drama. And we love to watch them "throw down". It's all-natural really, drama is a part of our daily existence. But when drama between people gets broadcasted globally it becomes a story. Some choose to tell the story while others are forced to do so. When KSI and Logan Paul fought in 2018, everyone thought they were forced, they were angry, they had to duke it out. But what if they were not the actors in this story? What if they were the storytellers?
Fight to Thrive
KSI and Logan Paul's fight was not the first-ever Influencer boxing event. But it was the start of a trend. Emerging from a particularly problematic controversy at the time, Logan Paul (and the Paul family) were in dire need of a distraction. They were handed the perfect opportunity on a silver platter when KSI called out the Pauls right after his match with Joe Weller. It all made sense. Pauls were public enemy number one. An event where they would be fought and potentially get triumphed over? Who wouldn't want that!? Well, the Pauls didn't. At least not right away. They even went on to try and push the responsibility to their father, Greg Paul, after KSI remarked; "I'll fight any of the Pauls!".
After Calling Me & My Brother @LoganPaul Out For NO Reason & Saying You'd Fight ANY Person With The Last Name of Paul.. Be a Man of ur word, represent England, & fight My 55yr old dad..

👉🏼Logan & I will also pay u $50k

bet u won't do it @KSIOlajidebt https://t.co/WVSo9Ccp13 pic.twitter.com/D8qLiLKwt8

— Paul Paul (@jakepaul) February 4, 2018
Although apprehensive at first, in about a month's time Pauls seemed to have reached an agreement with KSI. A whole first of it's kind pay per view fight was planned. What followed was a media frenzy. From Influencer promotions to conventional media coverage and even public press conferences. Some events even created their own memes, drawing even more crowds to the event. It was clear, both parties were keen on capitalizing on the opportunity. And capitalize they did.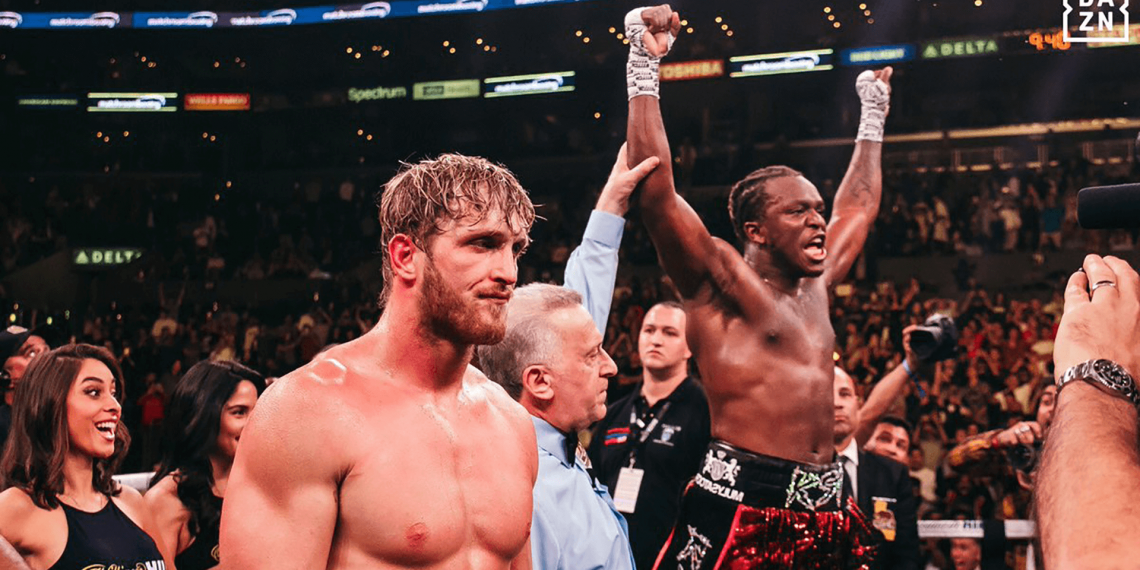 The fight took place in August of 2018 with a packed stadium, eight hundred thousand paying watchers online, and millions more watching through pirated streams. At the end of the day KSI, his brother Deji, Logan Paul, and his brother Jake Paul managed an estimate of about three and a half million dollars in revenue. Pauls too had also successfully distracted everyone from their various controversies. 
Punch that bag. Get that bag.
In the wake of the fight, it was clear that a new avenue for revenue was invented. The attention of the business savvy was drawn to the premise. Emotional reasons, physical consequences, and all on an ethical basis. So as you'd expect this wouldn't be the last time influencers took to the ring. Various companies were established to organize and promote fights. And the events were set to get even more impressive. While other fights had happened including a second fight between Logan and KSI, the effects of investment from the business side were felt only after the recent match between Logan Paul and boxing legend, Floyd Mayweather. Where the shift was made clear. Influencer boxing is now mainstream.
View this post on Instagram
Even though no winner was called, as the event was an exhibition, the fight further instated the trend by legitimizing the format. A crossover not unlike the ones where we see influencers meet with conventional celebrities bringing both worlds together and using the power of the combined audience to cross-promote.
Influencer Boxing Goes Cross-Platform
And as with every trend today, the Tiktok community also managed to get involved with the Youtube grown trend recently. The Tiktok vs Youtube showdown "Battle of the Platforms" was held just a couple of weeks ago. A six versus six mega event where Youtube's Ace Family (Austin McBroom) and Tiktok's Bryce Hall headlined the fray. 
Austin's been on the news recently following controversial stories about his personal life. Curiously the fight aligned perfectly with Austin's controversy. Leading to some calling him out on social media for trying to distract from his story. Austin meanwhile, recently choose to respond to the allegations with a single tweet.
Wait till the story unfolds 🤫

— Austin McBroom (@AustinMcbroom) June 17, 2021
As influencers scour for new and innovative promotion opportunities, possibilities are fast multiplying. Influencer boxing is surely one such innovation and a masterstroke in marketing. And it's set to be a trend that'll be a mainstay in the sphere for the foreseeable future.
---
Have you been keeping up with the fights? Would you watch if your favorites took the ring? Start a discussion by leaving a comment below! Don't forget to follow us on our socials to never miss any hot topics in the influencer marketing industry!