Pinterest is a social networking platform that allows users to visually discover new interests and share images and videos on their own or others' boards. In recent years, it has also become a platform where effective marketing studies are carried out. Because Pinterest is a platform that uses ads quite effectively. It is uniquely important as a place where marketers visit to gather information about potential purchases. Despite being a smaller-than-usual social network, Pinterest has beaten Instagram as a primary social media platform that influences purchasing decisions for US social media users. It is also the fourth most popular social media platform in the United States. Now let's look at how to advertise on Pinterest together.
How to Advertise on Pinterest
To begin with, you need a Pinterest business account. There are few ways to do that. If you already have a profile, you can add a business profile to your already existing account. Or, if you only need a business account, you can convert your personal account to a business. Another way to do that is create a new business account. While creating your account, you can connect your other social media accounts to your profile.
Campaign
To advertise on Pinterest, you first create a campaign. Each campaign contains multiple ad groups. It's in these ad groups that the business actually happens. Create multiple ad groups and tell different parts of your business. Once your ad group is created, you can sponsor Pins within the ad group to best fit your campaign's goal. You will see how sponsoring a pin changes the results of your campaign.
Campaign Goal
When you create a campaign, you give it a name and set a goal. Make sure the purpose of your campaign reflects your overall business goals. The destination you choose will determine the bid and ad formats that are right for you.
Creating Ad Groups
Ad groups are where most settings are made. You set your budget, schedule, target audience, and bids for ads within the group. Creating multiple ad groups is a great way to discover how people interact with your content in different ways.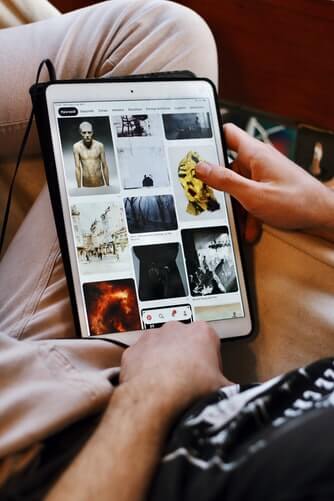 How can brands benefit from Pinterest?
Pinterest is launching a 'Buyable Pins' program for companies, allowing customers to buy products directly from the platform. This is a fantastic chance for brands to engage with customers on their chosen platform. On Pinterest, you can find anything, so a customer may treat their profile like a Google search. Using Pinterest to advertising is a wonderful strategy to boost a company's Google Search Rankings too. Overall, if your product or service is visually appealing and captivating, Pinterest should be a part of your social media advertising strategy. Visuality is crucial for Pinterest, so if you are planning advertising on Pinterest, you should definitely pay attention to the visuality.
Why Pinterest is so unique?
Pinterest is a one-of-a-kind platform with an equally one-of-a-kind business model that sets it apart from other photo-sharing platforms. Users construct personal pinboards using existing photographs submitted by friends, acquaintances, and even companies, rather than sharing photos directly with friends. Users can also post their own images and pin them to their pinboards, which are online portfolios.
Digital adverts are one approach to monetize social media platforms. Pinterest recognizes this and has developed a strategy for monetizing the platform through advertising. It, on the other hand, accomplishes it in a unique way. Pinterest has developed a promoted ad approach that charges advertisers based on the amount of engagement or activity their ads generate. This means a marketer only pays when a current user interacts with a promoted pin, potentially increasing the advertiser's return on investment. Additionally, advertisers can target users based on their interests, personas, or lifestyles thanks to Pinterest's unique usage of pinboards.
Overall, Pinterest works differently than other social media platforms. This difference can be beneficial in advertising because it gives the marketer a better plan. With its new developments and updates, Pinterest can be very beneficial for your business.
---
Do you use Pinterest for your business? If not, would you consider using it now? Leave a comment down below or hit us up on our socials! Stay tuned for more news on social media!