We are here with yet another conventionally known movie franchise that made its way to digital. For the years the books and movies were released, Harry Potter made good use of traditional media sources to promote the products. With its unique storyline, visual effects, and feeling of familiarity, the series won the hearts of many. Even though the series came out when the millennials were growing up, it is still as popular as the first time. 
What made Harry Potter relatable and popular among children and youth?
Just like Star Wars, the Harry Potter series created a unique universe for the audience. Playing to the imagination of youngsters, the series offered an escape from reality for fantastic book lovers. However, even though the universe was just an imagination, it still had real life elements to it. Essentially a school with exams and classes, Harry Potter helped many people experience a school life they could've never imagined. The series also set bars on friendship, bravery, intelligence, and determination. With its "your life but with magic" approach, Harry Potter affected millions of people around the world. 
The series achieved the familiarity feeling with its cast & costume selection as well. If you were to watch an interview of Fred & George Weasley's actors, you will see that they are in fact Fred and George. They are mischiefs. The duo even said they skipped class to audition for the roles. Who could be better than 2 children skipping school to become the ones to drop out of school to found a joke business?
Emma Watson as Hermione was also a great choice for the role. Even though she gained a huge success with the series, Emma still attended Brown University to get her college degree. 
For the costume part, the cast were actually wearing their own clothes for the first 2 movies. As they were children back then, it was the best way to keep them relatable to the audience. It is always good to see something you own on TV worn by a celebrity, after all.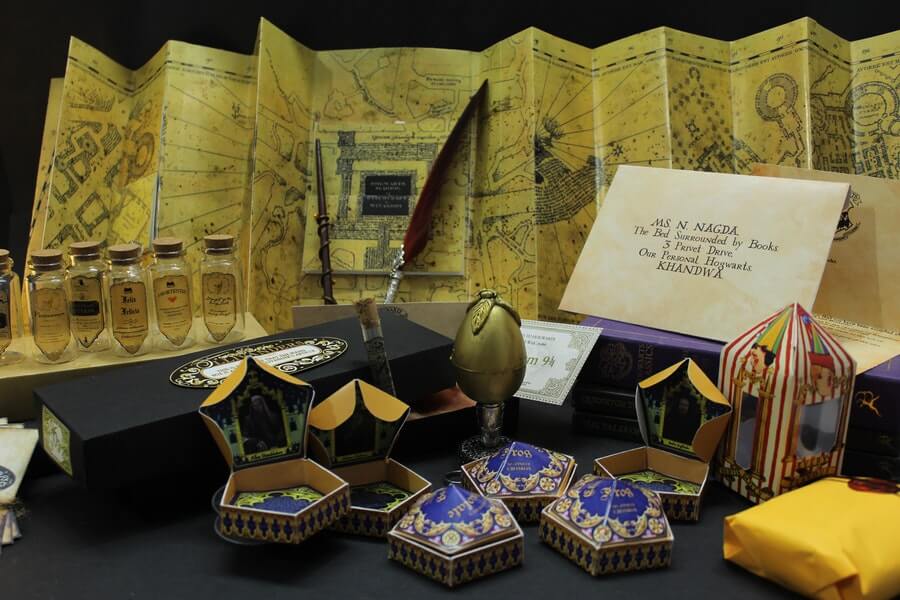 Harry Potter and Social Media 
Harry Potter franchise took good advantage of the digital world. Starting the online journey in 2012 with Pottermore, the franchise offered fans to be involved in the wizarding world. With house placements, patronus charms, and games, Pottermore helped preserve the success of the Harry Potter series. 
But it wasn't only Pottermore that carried on the legacy. Like people supporting certain football clubs, the fans were also supportive of their Harry Potter houses. With different characteristics attributed to each house, fans started pairing their houses with different things like their horoscopes, friend groups, and even planets. 
These houses then inspired fashion bloggers, makeup artists and more to come up with creative looks with them. These videos are still continuing, especially on TikTok. 
As the series brought out so many different characters, there came acting challenges with the actors' voices. The sounds from the movies were so frequently used for videos that if they were copyrighted, many people would be in trouble. 
Cons of social media in this case
One thing that did not help though was JK Rowling's Twitter account. Once very much loved author, JK Rowling sent out some tweets that were perceived as homophobic and transphobic. Even though she tried to defend her ideas and beliefs, fans of the series started to claim that the books wrote themselves. Well, she gave them the imagination of talking letters so it was only fair for fans to use it. J.K. Rowling's cancellation by a whole fandom stands as one of the greatest examples of cancel culture to this day.
'People who menstruate.' I'm sure there used to be a word for those people. Someone help me out. Wumben? Wimpund? Woomud?

Opinion: Creating a more equal post-COVID-19 world for people who menstruate https://t.co/cVpZxG7gaA

— J.K. Rowling (@jk_rowling) June 6, 2020
---
Where to from now?
Even after the movies ended, Harry Potter has always remained as big as it always were. The franchise utilized the digital world greatly, and it also helped that the franchise was deeply embedded in popular culture–making it effortless to stay as a hot topic on social media. With the emergence of new platforms like TikTok and new Fantastic Beasts movies on the way, how are things going to evolve?
Well, you tell us. Leave a comment down below or hit us up on our socials. (Owls also accepted and appreciated.) We're listening.