March 8th is celebrated annually as "International Women's Day" around the world. This special day, declared by the United Nations to raise awareness about the political, social and economic freedom of women on the basis of human rights, is celebrated with various events in many different countries of the world. Of course, many authorities and companies also publish support messages for Women's Day.
One of these companies that posted a support message for Women's Day on March 8, 2021 was the famous fast-food restaurant chain, Burger King. However, the company received a backlash from social media due to some "jokes" in its post on its UK Twitter account.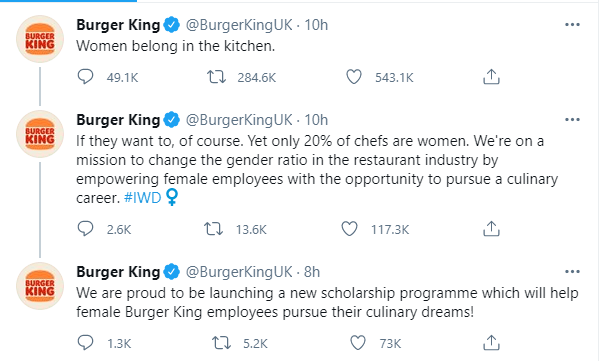 The tweet was actually the title of a flood explaining that the brand wants to see more women in culinary leadership positions and will create a new scholarship program to help them achieve those goals. However, because a highly discriminatory phrase was tweeted alone without context, it was misunderstood by many and drew backlash.
Fernando Machado, the global CMO of Burger King's parent company Restaurant Brands International, defended the purpose of the campaign throughout the day but admitted it was a mistake to share a famous sexist trope like "Women belong to the kitchen" without context.
Thousands of women condemned the fast-food chain, while many users stated that they would no longer eat at Burger King. After nearly 12 hours of uninterrupted debate, defense and criticism, Burger King apologized for the "Women belong to the kitchen" tweet and deleted it.
We decided to delete the original tweet after our apology. It was brought to our attention that there were abusive comments in the thread and we don't want to leave the space open for that.

— Burger King (@BurgerKingUK) March 8, 2021
Stop Using Clickbait
Although Burger King's International Women's Day campaign received some praise for bringing a new interpretation of a sexist statement, many people on Twitter fired back. "Please don't use sexism as clickbait," wrote user @BeccaBeckery.
Proof this could have even fit in one tweet

Please don't use sexism as clickbait. The men in my mentions proves the damage you're causing by doing this. pic.twitter.com/G0VKGgiZQp

— Becca (@BeccaBeckery) March 8, 2021

It's Not Enough to Be Funny
Considering that most of the users do not want to see ads on social media, it is quite difficult for a corporate post to make a big impact. That's why brands are constantly trying to improve their social media accounts and look for new ways to get the images or videos they share go viral. The way to do this is to analyze well what users expect from social media.
Users don't come to social media for industrial news or long articles … they just come for fun.
Since humor plays a significant role in life, it makes sense to use it as a marketing strategy. There is no doubt that almost all of us like to see funny content on social media. However, sometimes it is not easy to get it right.
While users generally appreciate brands having a way with humor, it is vital to adjust the dose of comedy and show sensitivity. Funny content is shared a lot and using comedy as a language of communication is appealing. However, while trying to be funny, there is a high risk of coming up with posts that will create a backlash from followers.
Choosing the Right Type of Humor
There are many types of humor. When the comedy styles of Jo Burnham, Amy Schumer, Ricky Gervais and Jim Gaffigan are compared, it can be seen that there are many comedy styles such as "dirty humor", "political humor", "family humor" and "food humor". That is why it is important to correctly determine which humor style will better resonate with the target audience.
There are many mistakes that can be made. It is quite possible to easily offend a group or an individual. Besides user backlash, other brands, especially competitors, can turn the situation into an opportunity.
@OldSpice Is your deodorant made with really old spices?

— Taco Bell (@tacobell) July 9, 2012
Burger King faced a similar situation on 8 March. The "Women belong to the kitchen" tweet of Burger King gave a trump card to one of its biggest competitors, KFC.
— KFC Gaming (@kfcgaming) March 8, 2021
Responding to this post by KFC, Burger King asked why they should delete such a tweet, drawing attention to the scarcity of women in the sector, and stated that they thought they would agree with KFC on this issue.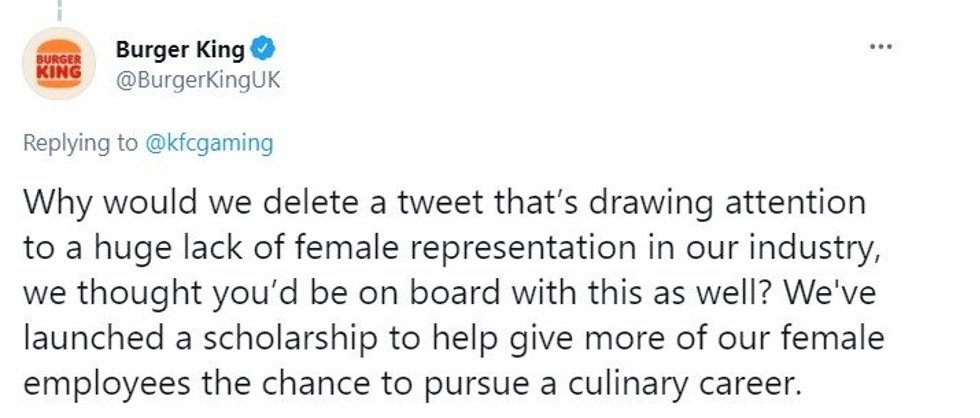 But as we know, Burger King then had to remove the post and apologize to users. This is exactly why brands need to be extra careful before a humor attempt. As with any marketing strategy, having a plan is vital. In this way, the brand is prepared in advance for what might happen – even if those things don't happen.
---
What do you think of Burger King UK's women's day tweet? Do you think that attracting attention with such a strategy is effective or does it make you think the brand is insensitive? Feel free to tell us what you think in the comments section below and don't forget to follow us on our socials!