Social media sensation group Birds Aren't Real has been preaching that birds are all "government surveillance drones" for years. And they've just now held a fake protest in front of a TV station. Things got a bit out of hand as they were treated seriously by the news crews around the building.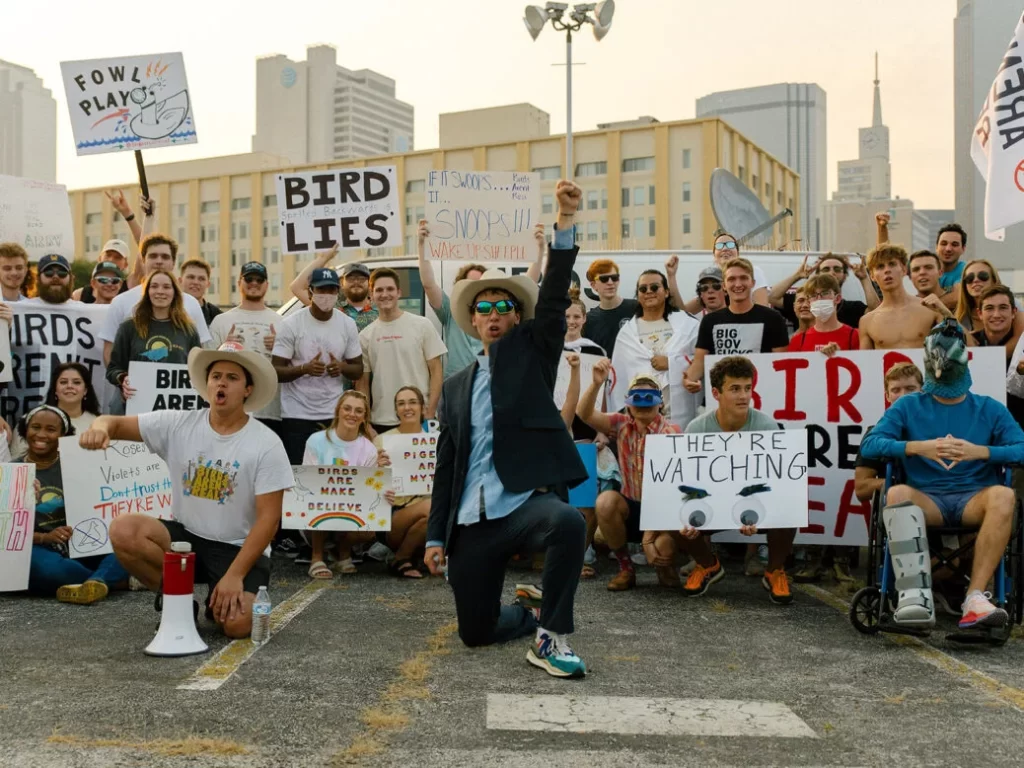 Starting out in 2020, the TikTok account Birds Aren't Real quickly gained over 800,000 followers amidst the pandemic infested social media crave. Starting out as a prank, the movement's creator Peter McIndoe joined an unrelated event with absurd slogans and signs. He said he has never expected it to ever take off as it did.
Slogans of the movement have been spotted amidst protests all over the USA since then. Although a fake conspiracy was created as a joke, some were overly committed to the bit.
If It Flies It Spies
On March 20th, the movement marched to the CNN headquarters in Hollywood. With 160 in attendance, the "Media Freedom March" has made headlines on the major news networks. While TikTokers went to great lengths to disguise their identities, one major name who was and has been open about his support was massive Instagram creator Daniel Mac.
View this post on Instagram
Several of the signature signs and slogans of Birds Aren't Real were present during the protest. Protestors with signs that read "If it has a beak don't let it speak" have gotten some backlash on social media. But they were quick to draw attention to the humorous context of the slogans and there was no further controversy.
Altercations With the Protestors
After McIndoe concluded his passionate speech, the protestors refused to disband. As Birds Aren't Real protestors blocked the roads and were insistent on continuing to do so, police were called to the scene. However, There were no further altercations, and protestors peacefully disbanded eventually.
Some media personalities have also been caught in the net of those who were out of the loop.
That's what you get for working with the bad guys. https://t.co/RaLhbWh5Jk

— Cam (@cameron_kasky) March 21, 2022
Birds Aren't Real or Are They?
Protestors and creators at the event were asked if they really believed in the conspiracy. Daniel Mac said he calls himself the "Bird Trooper" when asked what he does for a living. But some others were content on breaking the character, explaining as "We are just here to have fun. Of course, we don't think birds are real. It's just like a fun way for the community to get together and do something fun, you know?"
---
Did you know about the movement before the protests? Do you think birds are real? Let us know down below or hit us up on our socials!